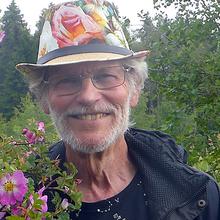 In 1989 I bought my first rose and planted it among my perennials. By now I have more than 400 different roses and about the same amount of perennials in my rose garden on an island outside of Vasa, Finland. My Father was a keen gardener, so I guess much of what I know about gardening came from him.
Like many other gardeners I strive for beauty. Whenever I see a rose I feel would enhance the beauty of my garden, I try to get hold of it. How frost hardy it is, is no longer an issue. With proper winter protection most roses can thrive in hardiness zones far beyond what is said to be their limit.
I am not a gardener by profession, but a theologian (Dr. theol.). Most of my working life has been devoted to communication as a producer of radio and TV contents and as director of communication and a lecturer both on media and personal communication. By now I am retired and enjoy being a full time gardener.
When I am introduced to an audience nowadays I am referred to as a rose expert. Be that as it may, but I do know something about how to winterize roses, having developed and tested methods that work - at least for me.
My mother tongue is Swedish. My English is far from perfect. Solace is to be had from the fact that language first and foremost is a means of communication. As long as we make ourselves understood, correct grammar, spelling and perfect word order are of minor importance.
On this site I want to share the beauty of my garden, my successes and failures. I also hope to learn from you, my visitors.
You can contact me via the Contact tab on the main menu.